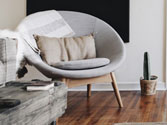 For a lot of us we are spending a lot more time at home. Keeping your house clean, tidy and organised is key. It doesn't have to be daunting but organisation is the key.
The cleaning bees have put together a list of a few basic things to consider when cleaning around the home to keep you and your family safe.
1. Focus on frequently touched areas such as worktops, hand rails, door handles and light switches which often get forgotten about (or just get included in your "spring clean" routine) just add them in to your weekly/daily job list instead. Just a wipe with an antibacterial wipe or micro-fibre cloth frequently will keep those grubby germs at bay.
2. Think about what cleaning products you are using. Bleach, antibacterial sprays and alcohol based sanitisers are all really good products for killing germs and keeping your house smell clean.
3. Mop hard floors regularly with your favourite disinfectant. We love Zoflora. It kills germs and bacteria as well as making the home smell amazing with a variety of fragrances to choose from.
4. Wipe down children's toys with antibacterial sprays and wipes before tidying them away. Not only will you have a tidy house at the end of the day but get rid of a build up of any germs
Don't let being at home become stressful it doesn't have to be just find a routine that works for you.
A tidy and clean home can do wonders for the mood and mental state. You never know you may actually enjoy it 🙂
For more information and advice then get in touch with Laura and the bees we would love to hear from you.