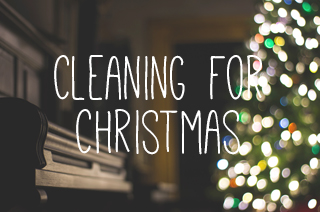 A full house at Christmas can feel like an endless cycle of housework without ever getting on top of the chaos. But don't let it get you down. Christmas should be an exciting and joyful time for us all.
By putting in a little work around the house ahead of time will make the festive season plain sailing.
Christmas is about spending time with family and taking some time away from work. We all live such busy lives and the year runs away so quickly. Christmas is a great time to remind us to slow down and make an effort with the people you love.
If you put in some effort beforehand, all you'll have to do is focus on wiping surfaces, toilets and running the vacuum around.
I ensure everything is as up to date as possible, including the washing and ironing. It means I can relax on Christmas Day and enjoy!
It does make things a little easier if you enjoy cleaning which I do but even if you don't small chores each day will make it much more manageable for you!
Clearing up after myself was instilled in me from a young age. My grandma was always tidying up and liked everything to look nice and be in its proper place. There is nothing nicer than coming back to a tidy, clean and organised home. It works wonders for unwinding and de-stressing after an overwhelming day.
Once the house is really clean and organised, housework takes less time which means more time for spending with family, friends and other fun festivities.
For my pre – Christmas cleaning tasks, I start in the bedrooms and work my way around the house one room at a time.
Start small or even time yourself. I promise you once you start you won't want the festivities to stop!