Last month's blog I talked about looking at those areas that get missed around the house such as behind the radiators, light fittings and skirting boards.
whilst your indoor space is important as you see it every day so is your outdoor space. So don't neglect it! It is just as important as those areas you don't see around the house!
It doesn't have to cost the earth just a planter, some compost and some tlc is all you need!
Like your indoor space don't let your outdoor space overwhelm you. Start by making a list of what you want to achieve. Do you want a planter that you can eat from or to provide colour or a bit of both?
Designate 15 minutes or as much time as you have a day to your outdoor space. For me 20 minutes a day pulling up weeds or cutting back overgrown areas keeps me interested and motivated as well as seeing the benefits. By setting yourself small tasks it will make it more manageable and you will feel a sense of accomplishment.
I wanted to bring colour to my garden area, so I added Marigolds, Pansies, Geraniums, Daffodils and a Fuchsia along with a few edible herbs such as Sweet Basil which I love along with Coriander and Parsley to add a little something extra. I love these herbs mixed through a salad or running through some fresh tomatoes and olive oil!
You could add lettuce seeds or spring onions they are really easy to grow and take very little effort yet work well in a salad or a stir fry.
I also added two topiary bushes to either side of my front door in simple slate containers to just add a little elegance and wow factor to my front garden area. I wiped down by furniture which was in the shed, added a couple of solar lights to my planter and voila my outdoor space was transformed.
So simple, low maintenance but looks tidy and effective. when my plants from my planter die back, they can be replaced with different herbs or plants and my topiary trees just need trimming now and again.
Below is a picture of my planter with bright vibrant colours and to the right are my two topiary trees in a slate container.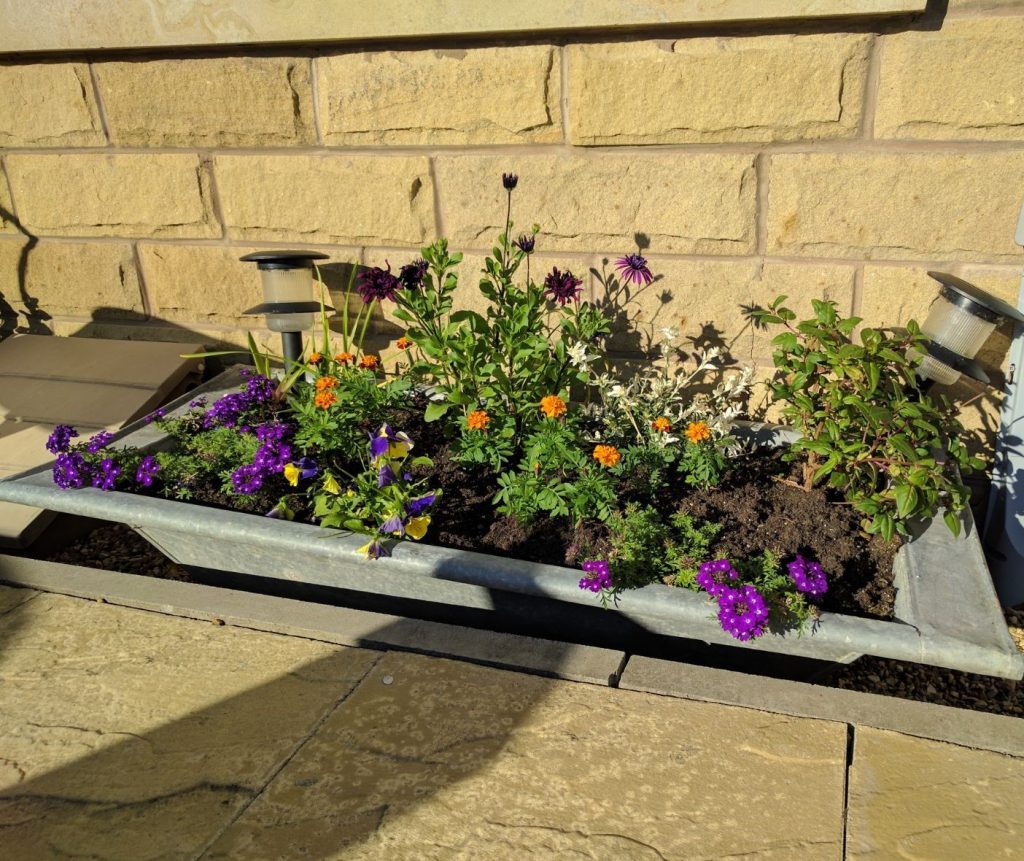 I brought the indoor to my outdoor and I couldn't be happier! Lets see what you can do. Let your imagination run wild!
Happy planting!